This won't probably be a review like many of you might expect...
It has always been so with them, I can't be that much "technical": I speak always on the wave of feelings cos hey, after so many years (12) and so many gigs of them (21) I have a very personal and peculiar way to "pass through" the live experience of them :)
The Coral: the openers
really good!
After the way Liam did walk off at Heineken Jammin Festival in July my heart of fan got broken: I could not accept that he had to be so mean against the only fans beside Britons whom have never ever betrayed them, namely Italians.
My pride, that you know is huge, was askin out for revenge... but twelve years of fanship can't be erased not even by such wounds.
The point is that I grew up along their music, and so it's like their music is part of me: their lives are connected in a special way to my human journey, and this is a bond unbreakable, even if I were the one wishing it could be cut out.
Not that I wish it.. now I know it better than ever.
(01. ####in' In The Bushes)
02. Turn Up The Sun
03. Lyla
04. Bring It On Down
05. Morning Glory
06. Cigarettes & Alcohol
07. The Importance Of Being Idle
08. The Masterplan
09. Songbird
10. Acquiesce
11. Live Forever
12. Mucky Fingers
13. Wonderwall
14. Champagne Supernova
15. Rock 'n' Roll Star
Encore
16. Guess God Thinks I'm Abel
17. The Meaning Of Soul
18. Don't Look Back In Anger
19. My Generation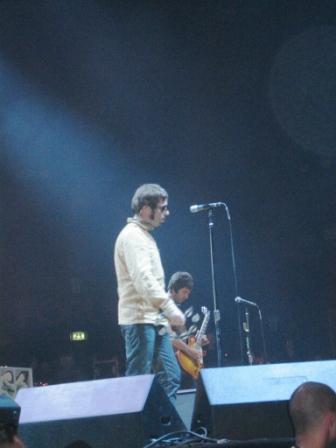 The atmosphere was thrilling from the very start of our waiting outside: in Italy the waitings are done with people singin along their songs over a guitar: something I have done in Knebworth as well and that I just love...
The point was that due to Micke's presence, and the fact we were just two, the best way to surf over the crowd ahead of us was to let everybody guess I was foreign too: this always has an impact over Italians, and that was the key to arrive exactly in front stage too. Maybe not too loyal, but a gig witnessing is a battle.
And after all, well, it's like half my blood is anyway belongin to UK for real. It's half a vision, in many ways ;)
Italians are just very passionate: for us to support a band means to be faithful in them; but in many ways it impressed me to reckon how many young people follow them, how many keep wanting to learn how to be musicians thanx to them, and how many keep willing to know history of music listening to their influences.
This were things important to me too in all my times along the band: and no matter how people around them changes, this is one of the reason I love them for :)
so along fand like me, who are nearest to their 30s than their 25, there were tons of teens :) amazing energy, and lovely curiosity :)
Everybody was knowing all words, and the wide, wide majority knew all about their lives, no matter the barrier of the language. You could really perceive the love and the respect, the same that drove Noel to amazement also the day after the gig, when under TRL balcony in Milan he had been welcomed like sort of king. He just seemed so very touched by our response, and so all band has been during all the gig...
Yeah, th gig.... I should speak of it, like I tried to briefly in the site with the pictures, above...
But how can somebody explain the chemistry within, without sounding just...fanatic?
I guess only fans can get what I felt.
It was massive, and it was really unexpected in me after the disappointment of July.
They basically were in shape.
And when they are in shape, their gigs become a celebration of old, good, lovely vibe of rock&Roll and popular music which means "everyone's feeling of positiveness about life and excitement".
When Oasis play like they did in Milan, you can feel happy.
Plain and simple.
It just happens.
Their songs, no matter what, just sound classic to the ears. Not only fans' ones.. they have the classic rock and pop structure, which makes them good, and when done brilliantly, amazingly real and mattering.
Noel had been fabulous :) The crowd was just an immense roaring along him :)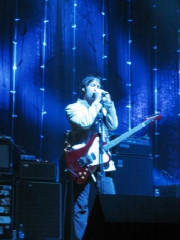 When he picked up his acoustic guitar, even before he was starting playing it, I was assured he would have played The Masterplan. He just had to: because we wanted it, we wanted to share with him that beautiful hymn.
My heart was so joyful, and still, thinkin of this special gift, that even now that I type about it I keep smiling :)
Our Kid was the way he should always be: tender and cocky at once. A very strange chemistry, but perfectly senseful in him.
Fire and air: passion and freedom. That's Liam, when his heart is happy. And he was happy that night. Which always makes me happy too :)
Gem and Andy then... they seem just always in the band, like they have never been away from the bros. Hard to explain: they fit Oasis like they were creating them as well :)
It's a beautiful and positive feeling you get watchin them playing along the Gallaghers. They have sense in the big picture :) and I thank them for makin them still around.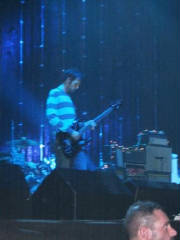 So I guess you're keep waiting for my description of the gig... but Ifear it won't come out, all is memories and hopes and dreams and gratefullness that fill my heart and mind, and to tell just about they played or they did sing would seem offensive to me: you gotta believe through my emotional rendition of the gig that they are a great thing to be felt inside.
A guy aged 23 outside the gates was speaking with me asking what I was thinkin of albums such as SOTSOG.
I said back to him, faking Italian (I am a great actress, me ;)) that if you love them, and if you get them then all their records have sense, and they matter because they are part of them. All is a road, a paved road which speaks of love for music and love for life and immense will to "say something about it all". You can't get them without all that they have done, which is a way to explain who they are.
You can care or not care: but if you care, then it all makes sense.
A lovely, deep, tender sense.
Hope to stay around them again soon.
a 22th concert of them, well, is a must for a fan like me ;)
Hugs and kisses everyone.
Stay Supersonic! Your editor in chief, gallimel.
Oasis in Milan, performance review: 9 out of 10
Crowd response: 10 out of 10
Best looking fella: Gem :)
Best bit of the night: can't really choose ;)
Feeling inside: amazing :)