Writing a review about Zwan's debut album, Mary Star Of the Sea, without bringing in Smashing Pumpkins is near on impossible. Even if Zwan might deserve to be judged merely on their own merits. Therefore I am not even going to try not to.
Billy Corgan's voice is one of the major reasons it is impossible. With such a distinctive voice that he has, it will always be connected with the music that he made first, for the major audience that is, and that, he did with Smashing Pumpkins. Another reason is that Jimmy Chamberlain has tagged along Billy from SP to the new band. If you are a cheesy person you can even say that with a female bass player and a half-asian guitar player you have Smashing Pumpkins Part 2, just with an extra guitarist.
But, so easy it is thankfully not.
But with Billy's nasal voice and guitar and Jimmy's jazzy drum fills and beats Zwan do sound extraordinarily like Smashing Pumpkins in their last days. Having said that, it is, as said, not that easy.
Zwan is a progress beyond where Smashing Pumpkins could go.
'Untitled', which was the last recorded song that SP ever did, had a sound which was not real Smashing Pumpkins sounding. Probably why it was not on any album apart from the Greatest Hits. It had a pop vein and good- feel to it that was just not SP. With those ingrediences it was, if you want, a perfect ending of the SP-era. You could see the band reaching out and spreading out. All in different directions. It was the time to end Smashing Pumpkins.
If you turn it around instead, 'Untitled' would fit perfectly on Zwan's debut album.
Me being a very, very big Smashing Pumpkins fan, I had high hopes for Billy's new band. Some of my thoughts here might be a bit biased but Billy has always made great music. He has proved he is one of the best songwriters of today. When he wants to be, that is.
The first single, Honestly, shows that Zwan is more pop than SP could ever be. Good or bad is up to you to decide. For me, I like having the two choices.
In the video it shows Billy smiling. Which is a break through indeed. When was the last time you saw Billy smile? It wasn't yesterday, that's for sure. And that smile in the video is one big point in reviewing this album. It is a happy album.
It has some dark moods and lyrics, but throughout the album there is an impressive belief in yourself and hope in life. A person who has had his let downs and dark moments in life, but who has come out stronger due and from them. A person who might just have found his own in himself after searching since the day he was born.
Billy Corgan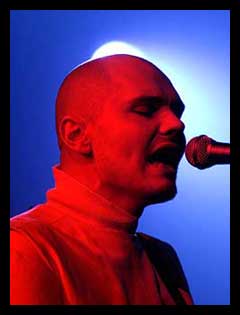 The album starts with Lyric and the first sentence is 'Here comes my faith to carry me on'.
This is practically all I could have written, cos it shows exactly what the album is about.
Settle Down comes next and is a 5 minute pop ballad which is one of the few songs that is very close to clone Smashing Pumpkins. But it stays luckely out of course for it. Declaration Of Faith is the third song and keeps up the vibe of the start. 'Maybe we were born to love each other. Maybe we were born to run forever'.
The four songs that comes next might be the best part of the album. Keeping up an incredible high rate and soul of the rock that Zwan produces. Honestly with its fluffy melody, El Sol with the albums catchiest verse/chorus, Of A Broken Heart with its beautiful mood and Ride A Black Swan with its thumping beat and groove.
The album continues with its mix of half pshycedelia and pop and ballads. Heartsong, Endless Summer, Baby Let's Rock, Yeah and Desire are all good proper songs. Might not be single material but what shines specifically with this album is the continuity. It's a album that never stales down. The mixing of songs are perfect. It just never gets boring.
And one song who is definitely not boring is the second last one called Jesus I/Mary Star Of the Sea.
Billy has always had a love for one big rocking out on every record. Wether it was Space Fuck on Siamese Dream or Glass Children on Machina.
This one is a bit different. Starting off with a 5 minute rock version of an old Jesus hymn slowly changing and evolving into a rock monster that ends the whole package after 14 minutes.
You might think it would get quite frustrating after a while, but Zwan finds in their music souls some way to keep jamming and playing for those 14 minutes. Making the song change all the time. Wether its solos or verses or just a strumming of the bass, they always keep the speed up. It is impressive.
And lyrically it seems to be a search of a God that Billy never have found.
'Jesus, reborn. So perish every fond ambition. God and trouble are all i've known. Yet how rich is my condition. God and heaven are all my own'
'And everything just feels like rain. The road we're on, the things we crave. And everything just feels like rain. If i should sleep, what's left to dream. When everything feels like rain'.
The song ending the record is a peculiar thing called Come With Me. Starting off with a vocoder voice without any music it fades into a country folk song of some kind. With a total uplifting harmonica keeping the melody alongside the acoustic guitars. I wouldn't be surprised if it turns out as one of the singles later on. It is not the usual thing these days but it is so catchy it could bring the listener into the world of its anyway.
So, on a whole then? Is it a good way for Billy and Jimmy to go after Smashing Pumpkins?
It sure is, when I first heard about Zwan I got the impression they were really a heavy metal band. But they are far from it on this record. But don't be surprised if next time Zwan makes a record you won't hear its by them.
I have talked mostly about Billy and Jimmy, but obviously are the three other guys important too.
Matt Sweeney from Skunk & Chavez, David Pajo from Tortoise, Billy Burke and Paz Lenchantin from A Perfect Circle. And I think without them this album surely wouldn't have sounded how it does. As tight, as fun, as rocky in its pop veins.
I end this review with Billy's own words taken from Ride A Black Swan. It's a good ending. And I am happy he is here again to comfort or rock with me whenever I feel like it.
'Remove my spirit from darkness. Love become my heaven. As the world goes 'round with our love'.
Billy is smiling again.
And so are we.
9/10
Mikael - February 2003